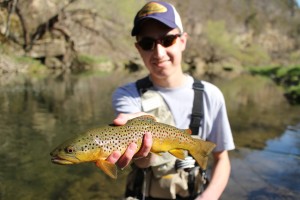 Welcome to On The Rise! Here, you can view our videos and photography, as well as the latest fishing reports.
I, Aaron, recently graduated from Winona State University and my brother, Aric, will be a senior at River Falls High School in the fall. We both have a passion for the outdoors, particularly fly fishing our local streams for trout, bowhunting for whitetails, and chasing gobblers in the spring.
This began in Spring 2014 when I filmed Aric fly fishing on the Kinnickinnic River near our house and made a short video titled "Knee Deep — Fly Fishing the Kinni". Our first video was pretty raw, but received lots of positive comments and even made it on the Orvis Friday Fly Fishing Film Festival. As the summer continued, we made a couple more videos and increased viewership. I have since decided to create a website so all our videos can be found in one place. Special thanks to my cousin Brose for designing our sweet logo and motivating me to create the website!